Wild Wishes Slot Review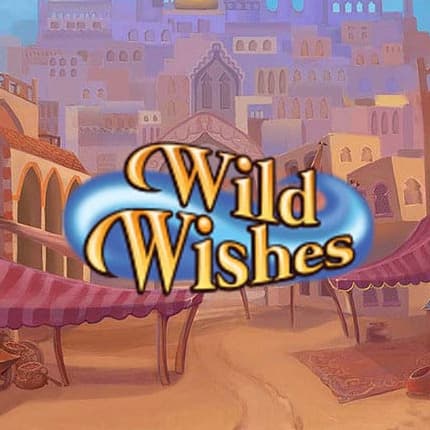 Remember Aladdin, a Disney character in an American fantasy film? That's what Wild Wishes recreates in a single slot machine. Here, you may watch your wildest dreams come true. To achieve that, you'll need nothing less than magic. In other words, you have to enter the world of Arabian Nights and claim the rewards and riches therein. You'll also need a genie's assistance. Just keep in mind the evil Wizard who tries to take your lamp. Overall, you'll have fun taking part in the creation of fairy stories in this slot game.
Theme, Game Settings, and Graphics
Wild Wishes is an Arabian-themed slot machine with some fantastic visuals. After loading the reels, you'll immediately feel as though you've been catapulted to the lovely city of Agrabah. The city is barely visible from a distance, rising under the hot sun. It is a magnificent palace that exudes elegance and refinement. Fans of Aladdin's film will undoubtedly feel nostalgic after seeing this. After all, the images closely resemble those of Aladdin.
Without a doubt, this slot game is really cool. Not many slot machines are as beautiful as this one. There are 15 fixed paylines, 3 rows, and 5 reels in this game. Additionally, both the symbols and the reels blend in well with the game's concept. Snakes, princesses, swords, a boy, magicians, and a variety of gemstones are all there. The design of these symbols is, unquestionably, spot on.
Further, when you push the spin button, an Oriental-inspired soundtrack will play in the background. This completes the whole theme and creates an immersive experience. Generally, this game has excellent aesthetics
Wild Wishes RTP and Volatility
The game's RTP is 96.12%. The RTP is the sum that gamers receive for every 100 they spend on the game. Therefore, it would be logical to estimate that if you wagered $100, you'd win 96.12 back. It's crucial to keep in mind that this is a theoretical figure and that most players really win considerably more or less than this. On volatility, Wild Wishes slot has a medium to a high level of variation. Thus, there is a considerable likelihood that while playing this game, you'll accumulate multiple wins.
Bonus features
While playing this game, players can check out a few entertaining additional features. They include:
Wild Wishes Slot Free spins
If you can land a winning combo, you'll immediately unlock the free spins feature. This will grant you an additional 7 free spins if you can get four consecutive wins. You may even win 50 spins if you can obtain five consecutive spins. Clearly, this is a fairly benevolent feature that unquestionably intensifies the game.
Feature Bet
Besides free spins, you can use the Feature button below the reels, to add an additional 40% to your wager. As a result, the first lamp will turn on automatically. This implies that obtaining more wins is not necessarily determined by the bonus spins you have.
Mobile Compatibility
Wild Wishes is playable on iOS and Android smartphones and tablets. It is a platform-optimized slot game, and clearly, Playtech did a great job. Online gaming can, however, consume a significant amount of bandwidth and power. This is particularly true if the game has excellent graphics. As a result, we advise you to get a reliable power supply and internet connection. Don't forget your phone/laptop charger!
Free Play
Playing this game's demo before playing for real money can be helpful, particularly if you have a tight budget. This will help you learn more about the game and bonus features. You will also get an understanding of how frequently you should expect payouts. We recommend playing at least 150 spins before beginning to play for actual money. Setting the same stake as you would when playing for real money can also be helpful. This will give you an accurate estimate of your potential winnings.
How to Play Wild Wishes Slot
During the free spin, the aforementioned paylines, rows, and reels can be changed by adding 25 paylines and another row. The – and + buttons at the bottom of said reels allow players to choose the desired wager amounts. For each spin, bet amounts can range from 0.15 credits at the lowest level to 45.00 credits at the highest. So, even newcomers will undoubtedly feel at home and have an exhilarating spinning experience thanks.
In addition, there is an autoplay function and a turbo mode next to the spin button on the left. These ones allow you to choose up to 99 of the required automated spins. An autoplay Feature button is also present here. It turns on the first lamp and modifies the stake amounts.
For this game, the starting bet per line is 0.01 and goes up to 6. This indicates that 150 is the highest wager that you can place. Nonetheless, the maximum payout from this would be 750.
How Do I win?
To win in Wild Wishes slot, you simply need to get at least three identical symbols on the reels. However, if you combine the special symbols, it's possible to get larger winnings. In the game, the genie serves as the Wild symbol (there is no Scatter symbol in this game). You can use the Wild symbol to replace any other symbol on the reels. This will consequently make it simpler for you to create numerous winning combinations.
But it's important to remember that the genie only shows up piled on the 2nd, 3rd, and 4th reels. Indeed, the game lacks progressive jackpots and multipliers. This does not prevent you from getting high winnings when playing this game, though. Wild Wishes has numerous fantastic features that you can utilize to get huge winnings.
Bottom Line
In summary, Wild Wishes is more than just a fun slot machine. With its unique features, this game can turn your wager into a rewarding payout. Moreover, as you play the game, the well-known Arabian story and the calming music will provide a peaceful gaming experience. The setting is carefully chosen, and so is the storyline. Generally, the Wild Wishes slot machine is worth checking out.