Frogs 'n Flies Slot Machine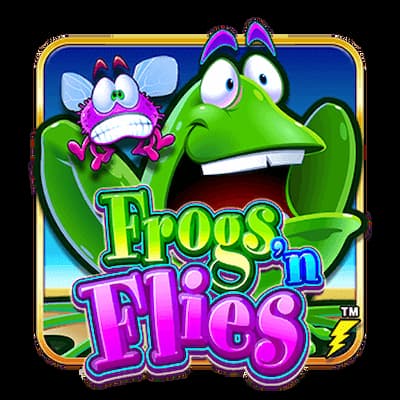 Frogs 'n Flies is an online slot machine released in 2013 by Lightning Box Games. Additionally, the game features amphibians and their immortal enemies – the flies. The bonus wild for the game is the fly, while the main symbols include frogs, fish, turtles, and the lotus flower. When it comes to the theme, the game doesn't have a specific classification. If we were to classify the game, we would place it under the "animal" theme.
In this article, you will learn more about the games, including RTP, winning ways, bonus features, betting limits, and much more.
1024 Winning Ways
Frogs 'n Flies has 4 rows, 5 reels, and 1024 winning ways. Again, you don't need to match symbols line up in the payline in order to win. Instead, the game awards winnings based on the like symbols that line from right to left.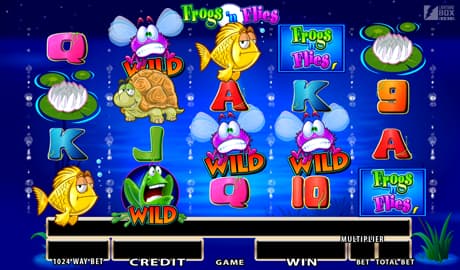 With this, you can easily see whether you have won the game or not. Another thing worth mentioning is that you can get 2, 3, 4, or 5 of a kind one spin. Well, this means that the potential for winning combinations is endless.
Does Frogs 'n Flies Slot have a Demo Mode?
One thing we like about the game is that it has both demo and real money mode. So, if you are a newcomer, you can horn your gaming skills by playing in demo mode. And remember, you are not limited on the number of times you can play in demo mode. You can play as many times as you want. Once you feel you have what it takes, you can make deposits and play for real cash.
Is Frogs 'n Flies Slot Game Mobile-Optimized?
Frogs 'n Flies slot machine is designed with mobile players in mind. In particular, the game is designed such that you can play it on mobile devices such as Android and iOS. Furthermore, the mobile version of the game is the same as the desktop version. This means you can expect to enjoy the same bonus features and sound effects as you play on mobile devices.
Frogs 'n Flies Return To Player (RTP) Percentage
This slot has a return to player rate (RTP) of 97%. Well, the RTP of 97% is the amount you can expect to get back or win after wagering on the slot machine. For example, if you wager $100 on Frogs 'n Flies, you will get back $97. The remaining 3% is the house edge. In simple terms, the house edge is the money that the operator gets when players wager on slot machines. The smaller the house edge, the more you are likely to get back as a player.
Frogs 'n Flies Bonus Features

This slot game has free spins as the bonus features. In order to trigger the free spins opportunities, you must line up 3, 4, or 5 scatter symbols. Once you line up the symbols, you can either trigger 5, 10, or 20 free spins. What's more, the multiplier of the free spins is determined by the number of scatters that have appeared. After placing your first bet, you can win up to 25,000 your initial bet. Also, the free spins can trigger more generous payouts.
Betting Limits
This slot machine has friendly betting limits. Specifically, the game has low and mid-range betting limits. If you are a low roller, you can place a minimum bet of $0.40 per spin. On the other hand, if you are a high roller, you can place a maximum bet of $20 per spin. As you can see, the betting limits are friendly to medium-range bettors. So, if you have a tight budget, this is the best slot machine to give a try.
Slot Volatility
If you are looking for a low-risk slot machine, look no further than Frogs 'n Flies. The game has a medium variance, which means you have more chances of rocking in some winnings. And as we mentioned, the house edge is only 3%. This is to say that you have more chances of winning big.
Final Thoughts
This is undeniably one of the best slot machines available in the gambling industry. The game is developed by Lightning Box Games and comes in handy with great features. For instance, the game has bouncing bonus features that trigger 5, 10, or 20 free spins. In addition to that, the game has 1024 winning ways. Better yet, the game has an RTP of 97%, meaning you can play and win big. In conclusion, we can say that Frogs 'n Flies is worth giving a try.